Cyprus Hotels
Paphos Hotels - Ayia Napa Hotels - Larnaca Hotels
When the friendly island of Cyprus welcomed the goddess Aphrodite from the waves, they encouraged her to stay for a while. What goddess could refuse the wonderful combination of summer sunshine and sea, a combination that still make Cyprus hotels so appealing today.
We can deliver your rental car directly to your hotel throughout Cyprus at no extra cost.
Read Top 5 Reasons Why You Should Car Hire in Cyprus with Us
Book your car hire online with us and save time and money!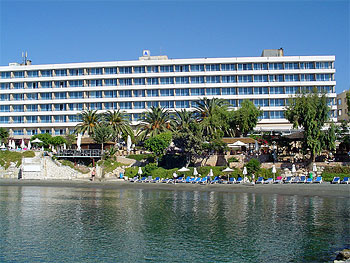 Hotel Apollonia, Limassol
Seaside resort hotels in Cyprus
If you love to stay right by the sea, a resort Cyprus hotel is just ideal. The fabulous beaches of Larnaca and Limassol are lined with some of the best hotels in Cyprus, and the beach is just a simple stroll away. Most resort hotels in Cyprus offer everything to make your Cyprus holiday perfect; a selection of swimming pools, restaurants and bars, plus that all-important beachside bar for a refreshing mid-sunbathe drink! On the west side of the island, the pretty town of Paphos is fringed with great new hotels, such as the picturesque and five-star Cyprus hotel facilities at Coral Bay.
Boutique hotels, spa hotels - Cyprus
Whatever your budget, there is a Cyprus hotel to suit your needs. The big resort hotels offer all the amenities, but if you prefer something more intimate, the new style of boutique hotels will cater for your every whim. Many Cyprus hotels also offer relaxing spa facilities, where you can have any stress massaged, scrubbed and steamed away in style!
Family hotels in Cyprus
Move away from the resort and beach areas, and you'll find smaller, family-run hotels in Cyprus offering a relaxed, homely place to stay. These family-friendly, smaller Cyprus hotels are particularly good for families who like to explore. With a Cyprus hire car from cyprus-car.com, you and the family can find those secluded beaches and special sites as recommended by your Cyprus hotel host.
In the older parts of towns, you might find your Cyprus hotel is also a historic building. Ideal for those who like to relax in peaceful surroundings, often these historic Cyprus hotels offer shaded gardens or secluded terraces, ideal for sitting and reading a book.
Ayia Napa Hotels, Cyprus
If you want a quiet life and a peaceful atmosphere, don't go to Ayia Napa! The club capital of Cyprus is humming from dusk to dawn, and the clubs attract the absolute cream in international djs. You Agia Napa hotel will help you find the hottest clubs and the best hot spots in town – and serve you breakfast when you get back!
Remember, we will deliver your Cyprus car rental direct to your Cyprus hotel in the major resorts, or collect your rental car from Larnaca airport or Paphos airport when you arrive, for maximum freedom on your Cyprus holiday.
External Links:
Book Cyprus Hotels Online at Expedia.co.uk
Chrysland Hotel in Ayia Napa
Flamingo Beach Hotel in Larnaca