5 Reasons Cyprus Car Hire Portal is Best for Your Cyprus Car Rental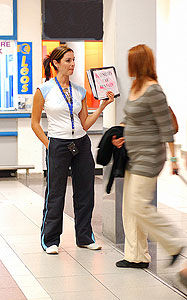 Our Car Hire Rep
Here are is a quick list of the five most important features offered by Cyprus Car Hire Portal:
1. Cheap Car Hire in Cyprus
With our instant car hire quote system, you get an automatic 20% discount for booking online. Whatever vehicle you choose for your Cyprus car rental, from a Smart Car to a seven-seat Nissan Patrol, you'll receive a 20% discount off our normal phone/office rates. Your low car hire price also includes many items other companies add as extras, so the price we quote is the price you pay.
See our Cyprus car rental rates
2. Quality Cyprus Car Rental
How many times have you hired a car that looks as if it has been through a war zone - twice? Not here! All our vehicles are of the highest quality and are serviced before every car rental. Cyprus can be explored in a car that is clean and tidy, and fit for the road. Unlike with some Cyprus car rental companies, you can trust that our entire fleet has an MOT every six months, to ensure they are in the very best condition.
Everybody loves to drive a new car! You can at Cyprus Car Hire Portal. Just imagine zipping around in a brand new, ultra-comfortable Renault Meganes or taking an exhilarating Toyota Rav4 4WD through Cyprus. Car rental rates from Cyprus Car Hire Portal are still very affordable even for brand new models..
See the most popular car hire models we rent out
3. Fixed Price Promise
The price you are quote is the price you pay! Unlike many Cyprus car rental companies who charge you for 'extras' such as child car seats or second drivers, your cheap car hire in Cyprus includes all these items:
• VAT and Local Taxes - FREE
• Full 24 Hours Service - FREE
• FREE Delivery & Collection to Larnaca or Paphos Airports or to where you are staying - FREE
• Collision Damage Waiver (CDW) - FREE
• Full Insurance: Tyres, Windscreen & Oil Sump - FREE
• Unlimited Mileage - FREE
• Free second driver - FREE

Want to drive all over Cyprus, including North Cyprus? Feel free! You've got unlimited mileage included after all. (You'll need some extra insurance for driving in North Cyprus, which you buy at the border - see our car rental terms page for details.)
4. Hassle-Free Car Rental in Cyprus
Since most of our cars are new, and all are serviced regularly, it has to be said that they don't often break down. However, mechanical faults and minor accidents do happen, and the last thing you want on your Cyprus holiday is the hassle of sorting out a broken-down car. So, quite simply, we do it for you. Ring us the moment you have any problems, and we'll bring you a replacement car as soon as possible.
5. Family Company Care
The car hire firm behind Cyprus Car Hire Portal has been providing car hire in Cyprus since 1979. That's almost 30 years experience of providing visitors to Cyprus with quality rental cars, and the same family has been in charge all that time. We love to welcome visitors to Cyprus, and believe the best way to ensure they come back again is to provide them with excellent service as well as quality cars. Try us and experience the Cyprus Car Hire Portal difference, a real Cypriot welcome.