Ayia Napa Nightlife
Clubbing Capital of Cyprus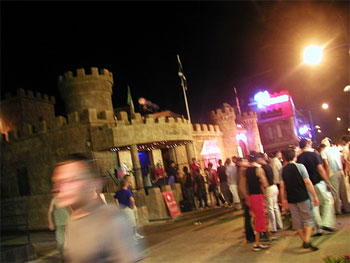 The Castle Club around 12am
Ayia Napa has grown from a small town with a medieval monastery into the club capital of Cyprus, where international djs keep the crowds on their feet from dusk to dawn. It's a non-stop dance fest of a town at night, and lively at all hours thanks to the bars and restaurants that cater for hungry clubbers at all hours!
Not sure where to start? Bars and pubs do open from mid afternoon, but don't be tempted; pace yourself, you've a long night ahead! Enjoy the beach, go scuba diving, hit the waterpark just out of town, or even drive your cyprus-car.com rental car out into the countryside. Have a good meal and relax; Ayia Napa nightlife doesn't even get started until much later.
Ayia Napa Square
Head for Ayia Napa Square in the centre of town at around 10pm, and you'll find club reps thrusting flyers into your hands. Ask what special offers they have, so you can get the best deal. Or, find a bar that looks full of likely clubbers, and ask them what's the latest and greatest. Stick the Square for a great party atmosphere that carries on until the clubs open at 1.30am. (Once the clubs open, the pubs tend to shut.)
Walking down the main street is like walking down a rather bizarre Cyprus version of Las Vegas! Clubs and pubs are often themed, such as the Bedrock Inn dedicated to all things Flintstones, and where the staff dress as cavemen. You'll also find the Castle Club, Hollywood Boulevard and Monkey Business – guess what their themes are! 70s Funk fans should head from Starsky and Hutch, and garage fans to Insomnia.
To get into any of Ayia Napa's clubs, you need to be aged 18 or over. Standard entry is under CYP10, with special events costing up to CYP15. Your flyer may also get you in for less. Drinks cost around CYP3, and it's best to stick to either beer or soft drinks, as the club's cocktails use local spirits, which can be vicious! Needless to say, the use of banned drugs in Cyprus is illegal, and the Cyprus police are very strict on offenders. You may be imprisoned, fined and certainly you will be deported.
Don't even think of driving in or out of Ayia Napa at night. There are plenty of taxis and they are cheap if you share them with friends, so save a few pounds for the journey home.
External Links:
The Castle Club