Larnaca and Paphos Airport Transfer
Ideal Airport Transfer is Airport Car Hire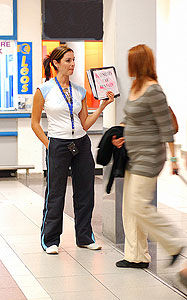 Our Airport Rep
When you step off your plane at Paphos or Larnaca airport, why wait to start your holiday? Who wants to spend hours in a bus or taxi queue, or hanging around for the last passenger to find the transfer coach? Most of us just want to get out into the sunshine asap!
So, if your ideal airport transfer is to collect your Cyprus hire car keys, stroll to your clean, air-conditioned car, load the luggage and drive off for your holiday, then a cyprus-car.com hire car is just right for you. We'll deliver it to the airport ready for your arrival, complete with a full tank of petrol, a free second driver on the policy, and even children's car seats if you need them. You will see our representative holding a card with your name on it as you get out of the arrivals gate. (Look to the picture on right side)
Pre-booked Cyprus airport taxi transfers may seem more convenient, but just compare the costs. A single transfer from Paphos airport to Paphos costs at least £30, with a transfer from Larnaca airport costing at least £65. Remember, that's just one way – you'll pay the same to get back to the airport again.
It's cheaper anyway!
A Cyprus hire car from us could actually SAVE you money. For a couple travelling from Larnaca airport to Paphos, for example, two taxi transfers would cost £130, whereas a compact airport car hire from us for a WEEK in HIGH season would cost just £123 if booked online. So, for £7 LESS, you get a Cyprus hire car for SEVEN days!
Also, be aware that not all taxi transfers offer the same service. Some taxi firms may in fact use a coach or minibus, so you will still suffer delays as other passengers are dropped off. What's more, on busy transfer days such as Wednesdays, you may find such services are booked out. Also remember that regular transfers will bring you back to the airport when they want to, not necessarily when you need to. So, get some extra hours on the beach by driving yourself back to the airport when you want to, in time to check in.
Why not check out 5 reasons you choose car hire though us and our popular car hire models.
Driving in Cyprus is easy; you drive on the left, just as in the UK. You'll find most roads far less crowded than in the UK, especially the motorway. The real joy of a Cyprus hire car is that you can explore Cyprus at your own pace, from finding deserted beaches or walking on Roman pavements, to winding through the mountains to discover hidden monasteries.
So, book your Cyprus car hire online at www.cyprus-car.com and save money, time and hassle!