Cyprus Holidays
Holiday in Cyprus
If you think a Cyprus holiday is just sun, sand and sea – think again! The island of Cyprus is the third largest in the Mediterranean, and ancient civilizations were fighting over it long before the Romans. This rich history is combined with beautiful scenery in Cyprus, from forest-clad mountains to rugged coastline, open plains to sweet-smelling citrus groves. Whatever you enjoy in a sunshine holiday, you can probably do in Cyprus – including skiing!
See which type of car you should hire during your holiday
Skiing in Cyprus
In the winter, the slopes of Mount Olympos in the Troodos Mountains are covered in crisp white snow from January to March. You can take any of the four lifts and ski down for lunch. Then, drive down to the coast in your rental car and take a quick swim in the sea. Where else in the Mediterranean can you do that in a single day?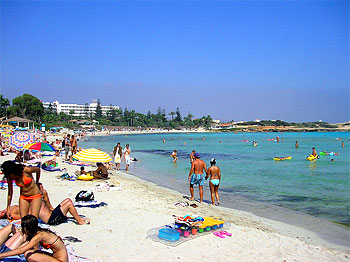 Nissi Beach in Ayia Napa
Sunshine Holidays in Cyprus
Most Cyprus holidays, of course, focus on fun in the sun. The golden beaches and wide sweeping bays of the south Cyprus coast are a natural holiday playground. If you like to lie back and soak up the sun, then the beaches at Limassol, Larnaca and Paphos are ideal for a week of total relaxation. The kids can play in the sand and splash in the water to their heart's delight – just make sure they are well covered in high factor sunscreen. Older kids (and Dad) can scream and shout on banana boat rides, or on gravity-defying paragliders high above the beach.
Adventure Holidays in Cyprus
If you crave some excitement on your Cyprus holiday, it's there for the taking. Speed across the waves on a jet-ski, or sail around the dramatic coastline. Dive beneath the waves to scuba dive on ship wrecks brimming with marine life. Hang-glide from the tops of mountains, or race a mountain bike down their rugged trails. Rock-climb cheer rock faces, or hike remote trails to discover hidden monasteries. On a Cyprus adventure holiday, your rental car can take you to adventure – and back in time for dancing the night away in the club capital, Ayia Napa.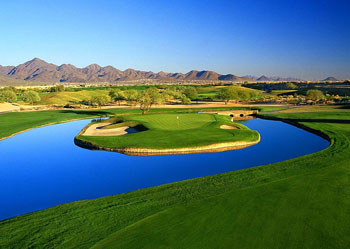 Cyprus Golf Holidays at Aphrodite Hills
Golf Holidays in Cyprus
The weather in Cyprus is ideal for a golfing holiday, with over 300 days of sunshine a year. You can enjoy immaculate greens and glorious views, especially at the Tsadha course, which has its own medieval monastery at the heart of the course. You can also play at Secret Valley, Vikla near Limassol, and Aphrodite Hills near Paphos.
Also See: Aphrodite Hills Golf Resort
Cyprus Culture Holidays
Cyprus positively overflows with culture, from the prehistoric settlement sites to the beautiful painted icons of the Troodos monasteries. Museums teem with important finds from the ancient Greek and Roman sites that are testament to Cyprus' prosperity in past times. In Cyprus, you can watch plays in a Roman amphitheatre, bathe in a goddess' favourite pool, and watch history in the making at the famous Green Line border. Regular cultural events such as the Paphos and Limassol arts festivals light up the streets with parades and performances.
Cyprus holidays are what you make them, so book your Cyprus rental car online and hit the road to discover your ideal holiday!
External Links:
Cyprus Tourism Organisation
More links on Cyprus holidays