Coral Bay Beach in Cyprus
Coral Bay Beach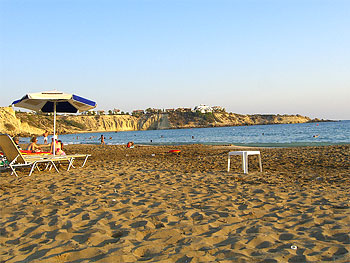 Coral Bay Beach
Coral Bay beach lies on one of the few remaining unspoilt stretches of coastline in Cyprus. Just an eleven kilometres drive in your rental car from the hustle and bustle of Paphos, Coral Bay is a Cyprus beach just made for relaxing and sun-worship! It's no surprise that a small resort has grown up around this most beautiful of Cyprus beaches.
Car hire is essential when visiting beaches at Coral Bay and when you book your car hire online with us, we can deliver your rental car to your hotel in Coral Bay free of charge.
The beach at Coral Bay is a gentle curve of golden sand stretching over half a kilometre, protected by headlands at each end. Come here and you'll be bathing in historic waters; the Myceneans first came here in the Bronze Age and built the settlement of Paleokastro on the northwest headland.
Nowadays, it's the luxury Coral Beach Hotel & Resort and Thalassa Hotel that overlook the beach from the same spot. Both have impressive private grounds and gardens, and are an ideal place to stay if you like to be pampered; the Thalassa even offers a personal butler service! There is also a good selection of high-quality villas to rent around the beach, so you are never far from the sea.
You don't have to stay at Coral Bay to enjoy this beautiful beach. At Coral Bay you'll find everything for a great day in the sunshine, including sunloungers to rent and two snack bars ready to serve you a cool drink and a bite to eat at lunchtime. Coral Bay beach is also a public access beach, unlike so many in Cyprus, so simply pack your Cyprus hire car with the essentials; sunscreen, beach towels, swimming costumes, children, for a great day out on the best beach in south Cyprus – for free!
Coral Bay marks the final major development between Paphos and the Akamas peninsula, so you can walk almost 6 kilometres from Coral Bay beach through the Cyprus countryside to the "'White Cliffs" area, a great sunbathing area if Coral Bay beach is getting rather crowded. If you want to explore any further, it's best to do so in a 4x4 vehicle – Cyprus-car.com will happily hire you one at Paphos.
Back at Coral Bay beach, if the sun and sand gets too much at midday, you can explore the history of the Mycenean people in Cyprus at the nearby museum, which is open from 10am to 3.45pm Monday to Saturday. Or you can bathe with the gods at the Baths of Adonis, two cool freshwater bathing pools with waterfalls beside a restored watermill, just a few kilometres inland.