Cyprus Weather
Weather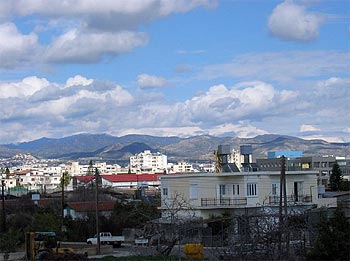 Glimpses of Beautiful Cyprus Weather
With long, hot summers and mild winters, the weather in Cyprus makes it not only an ideal holiday destination, but also a great place to live all year round.
Check Paphos Weather on Yahoo!
Which type of car in hot weather you should hire?
Spring weather in Cyprus
Spring comes quickly in Cyprus, when the whole island suddenly is covered in shades of vivid green. March to May is a wonderful time to enjoy the gentle side of the Cyprus climate, when wild flowers bloom in the Troodos Mountains. Generally, you'll need a light sweater during the day and a jacket at night to keep the chill away, but you'll often have days when you're in shirtsleeves and sunshades! It's wise to carry an umbrella just in case of rain showers, and of course, a Cyprus-car.com rental car gives you the freedom to enjoy the natural beauty of Cyprus in the spring weather.
Summer weather in Cyprus
Cyprus summer weather can be described in one word; hot! From June to September, the island basks in glorious sunshine and temperatures of up to 35°C. There's barely a cloud to be seen, and virtually no rainfall to speak of either, so you'll never really need to watch a weather forecast. Just pack the high factor sunscreen, a hat and the swimming gear, and you're ready for action. (If you travel to the mountains at night, you'll still need a sweater.) Why not hire an open-top 4x4 or a jeep from us, and explore the island while enjoying the sunshine to the full!
Autumn weather in Cyprus
In October, the temperature begins to drop, and remains at a very pleasant average of 25°C until almost the end of November. This can be a lovely time to have a holiday on Cyprus, since the summer crowds have gone, the weather is warm and the tourist sites are much less crowded. As in the spring, you'll need a sweater or jackets for romantic dinners at night, and an umbrella for the occasional rain shower. A comfortable saloon car from Cyprus-car.com is ideal for driving to those special places you've always wanted to visit.
Winter weather in Cyprus
Cyprus must be one of the few places in the world where you can ski and swim in the sea in the same day! Snow is confined to the Troodos Mountains, whilst the rest of the island remains mild and frost-free. In fact, it's unusual for winter temperatures in Cyprus to dip much below 15°C in winter, so even if you get caught in a rain shower, you will rarely feel cold. Bring clothes suitable for a European spring and you'll be on the right track.
Whatever the weather in Cyprus, there's always plenty to explore, so make the most of the wonderful warm temperatures and dry climate Cyprus offers. We forecast you'll have a lovely time in Cyprus!