Cyprus Restaurants
Recommended Restaurants in Cyprus
No holiday in Cyprus would be complete without trying out the local cuisine. Cyprus has top class restaurants just waiting to delight your tastebuds, along with local restaurants where the welcome is warm and friendly. By hiring a car, you can visit these best restaurants easily at your convenience. See our most popular car hire models you can rent during your holiday.
The first thing that strikes you about a good Cyprus restaurant is the sheer quality of the ingredients. Cyprus produces a wealth of fresh fruit all year round, from sweet red tomatoes to crisp cucumbers. Since the produce only has to travel a few miles from field to table, a Cyprus salad will always be fresh and tasty. The island also produces fabulous fruit, from sweet-oozing figs to juicy peaches, and the famous citrus groves yield masses of fresh limes and lemons. Traditional Cyprus food is healthy, too, thanks to the locally produced olive oil. The ideal accompaniment to a good meal in Cyprus is a bottle of excellent Cyprus wine; Cypriots have been growing grapes for wine in the foothills of the mountains for centuries.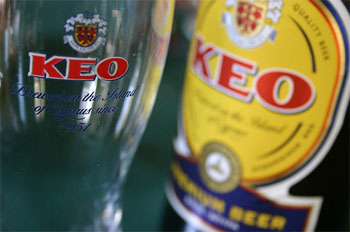 KEO - Local Cyprus Beer
The secret to eating well in Cyprus is look at what the locals enjoy eating. Top of the list is meze, up to 20 small dishes made with seasonal ingredients and served in succession with a couple of main dishes. True meze is all about taste, so while each dish may be small, it will be packed with flavour. Try traditional meze at the Taverna Napa in Ayia Napa, I Mavri Chelona in Larnaca, or drive to the hills outside Limassol to join the party at Lefteris restaurant in the village of Germasogeia.
Surprisingly for an island, fish dishes in Cyprus are not cheap. The general rule is, the more exotic the fish, the more likely it has been frozen and shipped. The best fish dishes in Cyprus are often to be found at small coastal restaurants, especially around Polis on the west coast, where the fish is caught just offshore. Don't expect to recognise the fish species, just enjoy the flavours of your simple "grilled and served" dinner instead! Try the excellent Porto Latchi restaurant in Latchi, the Vassos restaurant in Ayia Napa, or the Glaros restaurant in Limassol.
The staple of most Cypriot meat dishes is lamb, and the traditional favourite is kleftiko, lamb shank roasted in a special oven. However, running a close second is souvla, a less fatty version where the lamb is cooked on a spit. Most Cyprus restaurants will serve such dishes, such as the Peyia Tavern at Coral Bay, or the Democritos restaurant in Paphos.
Remember that having a rental car will make things much easier! Get an instant car hire quote today!
Ice cream is a favourite dessert in Cyprus, and the Italian style ice-cream is particularly good. Traditional pastries make a great dessert too, from nutty, syrup-soaked baklava and its shredded-wheat cousin kataifi, to the most famous island sweet of all, sugar-dusted chunks of Cyprus delight.
If you tire of Cyprus cuisine (shame on you!), you can indulge in a curry at the Calcutta restaurant in Limassol, or try the numerous Italian restaurants on the island, such as Cavallini in Kato Paphos.
External Links:
Pavarotti's Italian Restaurant
Drifters Bar Grill
See more restaurants in Cyprus