Map of Cyprus
Cyprus Road Map
Cyprus is the third largest Mediterranean island after Sicily and Sardinia, and nestles at the eastern end of the Mediterranean Sea. This eastern position ensures that Cyprus enjoys over 300 days of sunshine a year, and has a climate that attracts visitors from all over Europe and beyond.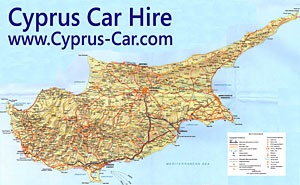 A quick glance at the Cyprus map shows an island divided into two separate countries, the Republic of Cyprus in the south and the Turkish Republic of North Cyprus in the north. The countries are divided by the famous UN buffer zone, known as the Green Line, which runs east to west along the northern foothills of the Troodos Mountains. Thanks to an improvement in north-south relationships, you can now travel across the border with ease, opening up the whole of the lovely island of Cyprus to visitors.
Cyprus is served by Paphos airport and Larnaca airport, and includes the popular resorts of Aphrodite Hills as well as picturesque fishing villages such as Latchi. The Troodos Mountains occupy most of the centre of the islands, with their wealth of hidden monasteries and ancient icons. The popular resort of Limassol looks over a sweeping bay on the south coast, whilst Larnaca also has great beaches and watersports on the east coast. Party animals will head straight for the non-stop clubbing town of Ayia Napa on the far eastern point of the coast, just below the former celebrity resort of Famagusta in North Cyprus.
The capital Nicosia is a fascinating town to visit with its massive Venetian walls, and is also the main border crossing point into North Cyprus. Northern Cyprus itself if quieter than the south, and has a wealth of great beaches, Crusader castles and ruined Roman towns to explore.