Buying Property in Cyprus
Buying Property in Cyprus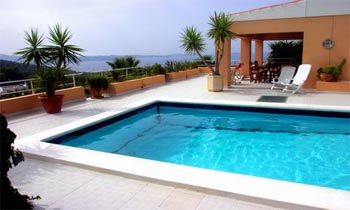 A villa with a pool in Cyprus
If at the end of your Cyprus holiday, you just don't want to go home to the rain and grey skies of the UK, then why not consider buying a property in Cyprus. Ever since the British relinquished rule of the island, there were some ex-pats who just didn't want to leave this island paradise. Today, they form the core of the many Europeans who have made Cyprus their home, either for a few weeks a year, or permanently.
• Which type of car you should hire in Cyprus when hunting for properties
List Your Priorities
Before you even step foot in an estate agent, sit down and decide exactly what you want from your holiday property in Cyprus. Do you want a "lock and leave" modern apartment, perhaps managed and rented by a specialist agent when you're in the UK? Perhaps you'd prefer a villa with a pool and a view, with good rental potential all year round? Or a historic town house with character, possibly in need of some restoration? Cyprus offers all this, and more.
Make a list of the features you require: number of bedrooms, parking spaces, swimming pool, a garden, proximity to the beach or town, etc.
Financing Your Property
Finally, set yourself a strict budget with a 15% contingency built in, and arrange a mortgage if you need one. Generally speaking, mortgages are available for up to 80% of the asking price, depending on your circumstances. Remember to include any property management fees in your budget.
Find Your Ideal Property Area
Your ideal Cyprus property needs to be in the right place for your needs; near the sea, in the mountains, close to a village, in the centre of town, etc. Find areas that tick all your boxes and take time to drive around them – Hiring a car will take you down the roads and past the places no estate agent would want you to see!
Find Your Property
Now is the time to go to the estate agents or developers. Armed with your priority list, choice of areas and budget, you can view only properties that fit your criteria, and not waste time on unsuitable properties. Always remember that an estate agent is there to sell what he has on his books, so if nothing is suitable, move on to the next agent and see what they have! The same rule applies to developers. You should also check the Internet and local press for private sales. When viewing, ask about average utility bill costs, connected services, etc, to discover any hidden costs.
Securing the Sale
Buying property in Cyprus is similar to the UK, in that you can (and should) negotiate on all items of the sale, including price, fixtures and fittings, and repairs required, landscaping, etc. All legal aspects of the sale should be conducted through a solicitor, ideally independent from any estate agent or developer you are buying from. You will be required to pay a 1% reservation fee to have the property taken off the market. Remember, a UK property sale usually takes a minimum of six weeks to complete, and Cyprus is much the same, so be patient and make sure all the legal requirements are fully met.
Take Possession of Your Cyprus Property
Collect the keys and enjoy your home in the fabulous Cyprus sunshine; hold a party, meet the neighbours, and enjoy!
External Links:
Buy Sell Cyprus