Step by Step Guide to Hiring a Car in Cyprus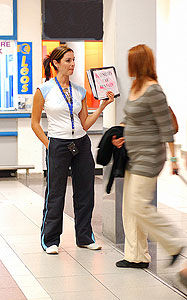 Our Car Hire Rep
1. Simply book your car online to receive your 20% online discount from our already highly competitive prices for car hire in Cyprus. Choose the hire car that's just right for you, fill in your details, and remember to request any special items, such as any additional drivers or child seats. Then add your credit card details, which will be sent over our secure network, and submit your reservation. That's your job done!
Remember, your 20% online discount price also includes:
• VAT and Local Taxes
• Full Comprehensive Insurance
• Full Insurance on tyres, windscreen and oil sump
• Collision Damage Waiver (CDW)
• Unlimited Mileage
• Free Delivery to Airports & Hotels
• Free Second Driver
2. Once we receive your reservation, we'll confirm it by email usually within one working day. Please print this confirmation for your car hire in Cyprus, and bring it with you to Cyprus. You must also bring your full driving license. UK drivers MUST bring both parts of the license, the paper version and plastic ID card.
3. One day before you arrive, we will select our best available car for you, make sure it is in good working order, and have it ready and waiting for your arrival. If you have pre-booked free child seats, we'll fit them for you.
4. Once you arrive in Cyprus, you can either collect your car at the airport, or have it delivered to any address in Cyprus, any time of the day or night.
If you are collecting your car at Paphos or Larnaca airport, simply look out for our representative, and present your email booking. We'll be there to meet you whatever time you arrive, however early or late!
If we are delivering to your hotel, apartment or villa, we'll bring the paperwork with us. As before, we'll deliver your car at whatever time you wish, as early or late as you like. Unlike other car hire in Cyprus agreements, we won't charge you any extra for delivery.
5. We'll ask you to fill in a registration form and check your driving license details, plus those of any additional drivers, who must be at least 25 years old. We will also request a deposit, usually taken on a credit card, which will be refunded on the safe return of the car.
We'll also check over the car with you for any scratches, dents or other bodywork marks, (not that our new cars will probably have any!). We'll note any such marks on the form, and give you a copy to keep.
6. Now your paperwork is complete, you can take your new hire car out on the road, as we've even given you a full tank of petrol!
In the highly unlikely event that your car breaks down or develops a fault, simply call the number on your contract, and we'll replace your car as soon as possible. With other car hire in Cyprus agreements, companies promise to try and fix your car, but we'll replace it as fast as possible. We want you to enjoy your holiday, not spend it sitting around in a garage!
When you return the car, we'll check it together one more time, before completing the paperwork in just a few minutes.